Hey fellow crafters! i'm michael ann from
michael ann made
where I share
diy tutorials
and
projects
to help us all become a little more crafty. for the month of may i'm running a series on
becoming a more confident crafter
with tips and ideas to encourage us all to try new things and practice our skills. i have been making things for literally as long as i can remember and just love the feeling of satisfaction in being able to give someone a handmade gift. i want to help everyone feel excited about making things themselves so i'd love to see you by my blog sometime and help you
become more crafty
! today i'm so excited to share with you a tutorial to make a
wrist pin cushion
. i love being able to have my pins easily accessible since i do a lot of clothes sewing, but a wrist pincushion is great for stitching while sitting on the couch too!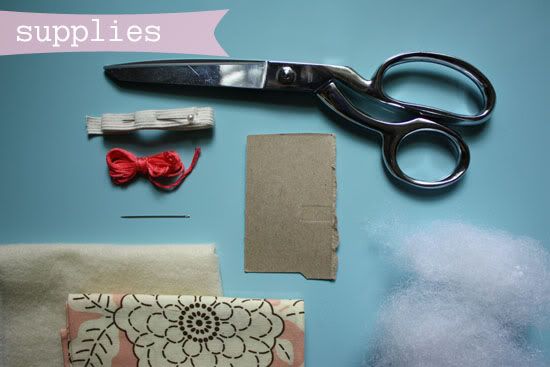 What you need
scissors, needle, embroidery thread - elastic (even a spare hair tie would work) - pretty fabric - felt - stuffing fluffing - a little piece of cardboard (I ripped off a tab from a cereal box and it was
the perfect size!)
What to do
Cut the cardboard, felt and fabric, making each one a little bigger than the last. sew the fabric to the felt with a straight stitch using the embroidery thread only along three of the sides. then slide in the cardboard and fill it with fluff, and sew the last side shut.
just to add an extra bit of cuteness, i decided to cut a scalloped edge on the felt. Pinking shears would look cute too, but I still need to buy some of those...
Measure out the elastic to fit comfortably on your wrist and then sew it on the back.

then stick a couple pins in and you're ready to go! i am so happy with how cute it turned out considering it only took about an hour to make. now i'm ready for some marathon sewing!
Best of luck with all your pin cushion making and swapping and a big thanks to Rachel and Charlotte for having me! hope to see you all by
the blog
sometime for more crafting goodness!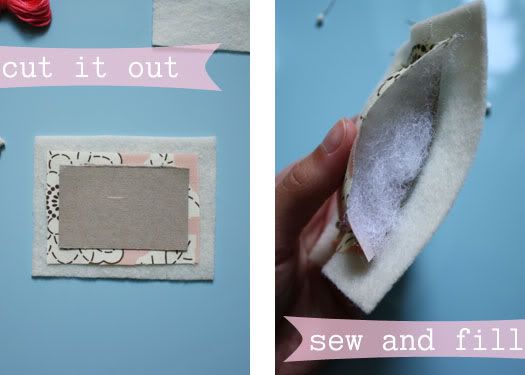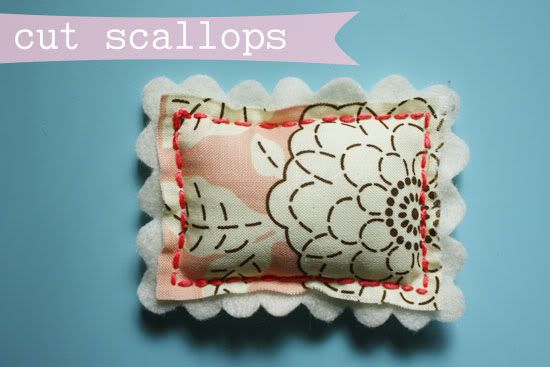 Thank you so much, Michael Ann, this is certainly great inspiration.